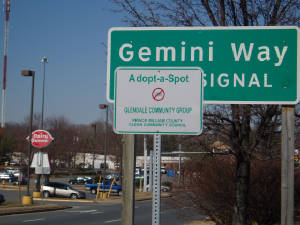 The Glendale's Adopt-A-Spot is located on Dale Boulevard from Gerry Lane to Glendale Road. Volunteers clean the designated area nine times out of the year according to the guidelines established by the Keep Prince William Beautiful, formerly the Prince William Clean Community Council. Glendale is honored to receive a 2011 Certificate of Appreciation from KPWB in recognition of our volunteers' efforts in maintaining our designated areas from March through December.
The purpose of the
Adopt-A-Spot Program
is to encourage individuals and groups to take responsibility for litter prevention and maintenance in Prince William County. The partnering group agrees to clean an assigned area and KPWB provides cleaning and safety supplies and a road sign for the site.
Keep Prince William Beautiful is a non-profit affiliate of Keep America Beautiful, Inc. Its mission is to empower citizens and businesses to become self-sufficient stewards of the local environment through litter prevention, education, and community involvement.